Side Projects
Millennium Falcon Operation Game
"I've made a lot of special modifications"
As a young boy I dreamed of flying, or even working on the Millennium Falcon. Well now I can… work on it at least.
This is my hack of an old 70's ESB Millennium Falcon toy from Kenner. It came to me in bad shape, and I actually used it a few years ago as a practice piece for painting and weathering techniques on my Falcon Model Project.
This time I took it apart and installed metal rings in the hull compartments, ran wires and made a circuit which closes when the tweezers touch the metal rings. There are 6 compartments on the upper hull with metal rings or contact points. I tried many different found metal parts to serve as the components to be removed. But in the end I machined my own brass, copper, and aluminum parts to fit the compartments in a way that looks like they belong there.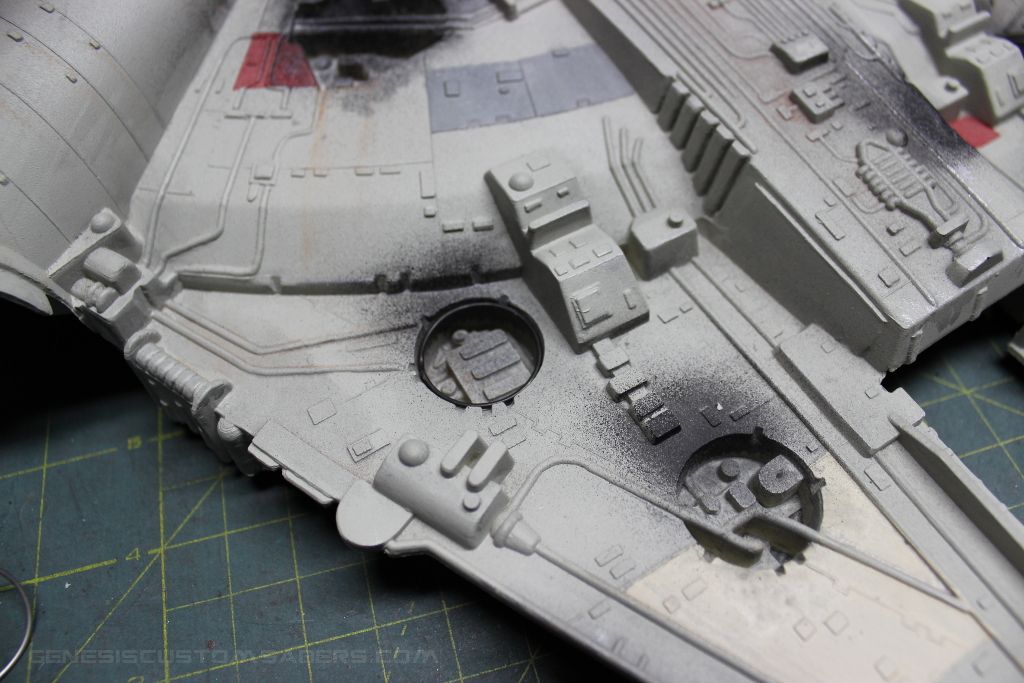 Next I installed the Plecter Labs sound card (a Petite Crouton 1.6), a 28mm speaker under the deflector dish, and a red, high power led to flash with the sound card's Flash on Clash when the tweezers touch the metal. I made up a series of sound files for the sound card to play when the Falcon powers up (or fails to), background hangar noise, and explosive sounds when the metal is touched by the tweezers. I also threw in some quotes from the Star Wars characters. It's cool to hear Chewy voice his displeasure when you fail to get the part out safely.
I integrated the LED running lights I had in there from before, and installed 3 switches, a power shutoff toggle switch, a blaster button on the top hull, and a startup/shutoff button in the cockpit. There is also a 1/8″ mono jack for the tweezers connection.
For the batteries I use 2 14500 size Lithium Ion rechargeable to give me 7.4 volts. I made two PVC pipe lengths so that these batteries would work inside the original C-cell battery compartment. After many tests it was ready to be reassembled.
I reached out to John at Sanjuro Systems to make me a set of credits instead of money for game play, and I made up cards (printed off at Staples) to serve as nearly the same cards in an Operation game. my goal was to play this game almost the same as the original Operation, but instead of specialist cards, you have the Han Solo cards. And since there are only 6 components to remove, I also devised a way to integrate putting them back safely.
Not for Sale
This entry was posted on Thursday, January 29th, 2015 at 10:58 am
You can follow any responses to this entry through the RSS 2.0 feed.