Elite
Lodestar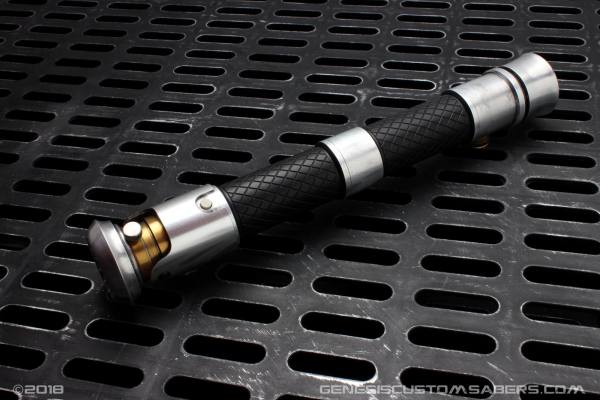 A guiding light on your way back
I love designs which look subdued and pure as I believe those designs feel the most "real". This two-handed saber is as real as it gets. From the functional diamond pattern grips to the anodized black inner chassis, this saber tells stories of light and dark. It's subtle curves on the emitter and pommel nicely offset the rigid geometry of the grips.
This saber has:
Crystal Focus sound card by Plecter Labs
Genuine quartz crystal, lit, and shockproofed in a metal chassis.
7.4v Lithium Ion battery pack
Quad Cree R/R/G/Rb with CEx board, to properly drive all colours.
Light weathering – well used look
2w bass speaker
THIS SABER IS SOLD
This entry was posted on Monday, March 26th, 2018 at 9:53 am
You can follow any responses to this entry through the RSS 2.0 feed.