Sound fonts
Crystal Shard 4.5 sound card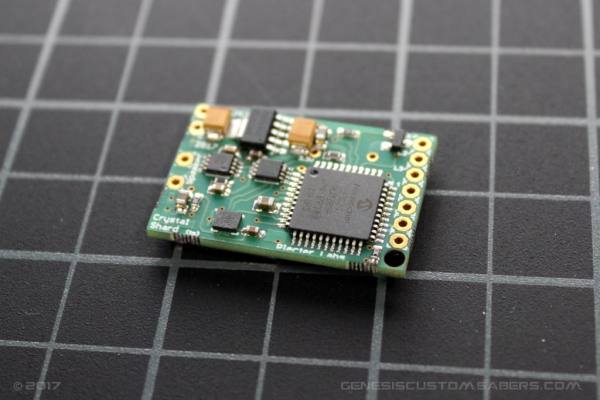 Balance and power
The Crystal Shard version 4.5 from Plecter Labs is an unbelievable mid-range sound card being the little brother of the greatest sound card in the universe the Crystal Focus. The CS4.5 is the perfect balance of features, quality, and affordability. It's not a card that is available for purchase, you can only get it pre installed in a saber from an approved builder. Staring May 2018, all GCS production sabers will come equipped with this amazing sound card!
New CS4.5 Features:
Dual Digital Sensor motion detection, identical to CF MotionFusion™, extremely high swing sensitivity and vibration/battery ripple immune
Mute during power off.  OPTIONAL silenced power-off sound when Mute on the Go™ is engaged
RGB Neopixel/WS2812 (and alike) support with power saving and adjustable timing (see video)
LEDstrip power saving StripOff™
LEDstrip localized & accurate blaster bolt defelction AccuBolt™ and MultiBolt™
Omnisabers™ support/Omnisabers™ Ready
16 Color Profiles and 16 Flash on Clash™ Profiles
4 boot sounds (up from 1)
4 blaster sounds (up from 1)
Force Effect (brand new for CS)
2 power off sounds
Pitch Shift, a sound effect modifying the playback speed and therefore the pitch based on the tilt of the saber
3 sequenced accent LED pads with RGB blade matching capability
Spectrum colour selection options
Legacy (same as previous CS versions)
Power supply : 3.4 to 5.5v / 2A per LED channel. SINGLE li-ion cells (18650 or 14500) or 4xAA rechargeable NiMH batteries recommended.
Enhanced deep sleep mode : < 0.1 mA (deep sleep mode)
Flash on Clash™
Flexiblend™ 3 channel color mixing with main blade color and Flash on Clash colors
4A high-power LED direct drive (no current regulator) per channel
Speaker: 4 to 8 ohm
True 16 bit, 22.050k sample/sec regulated audio engine
Audio output power : 2W max
Handles NC/NO/momentary switches for blade activation
Blade Flickering FX
Blade Shimmering on Clash
Pulse FX
Trident™ support for cross-guard sabers
Anti Power Off technology (A-POP™)
WAV file support
Up to 6 sound fonts
SD card support : up to 16GB, FAT16 or FAT32. Sandisk brands preferred
Check here for a breakdown of the other Plecter Labs sound cards
This entry was posted on Saturday, August 5th, 2017 at 4:13 pm
You can follow any responses to this entry through the RSS 2.0 feed.